Brakes Check, Repair & Replacement
The Best Brakes Specialist Services in Coventry
At Spon End Clutch & Brake Services we provide a comprehensive brakes service for all makes and models of vehicle. So, if you think your brakes need attention, we should be able to do it that very day. Don't delay, your life might depend upon it! Book your free brake inspection today.
At Spon End Clutch & Brake Services we stock most brands of high quality premium and budget brakes pads, brake discs. Our prices are highly competitive and we will beat or match any like for like written quote. If we don't have a brake part in stock we can, in most cases, order it and have it delivered within the hour. Most brake repairs can also be made in the same day, depending on available booking slots.
Brake Pad & Disk Checks

Brake Pad & Disk Replacements

Brake Fluid & Pipe Checks

Brake Servos and System Checks

ABS Brake System Diagnostics

Electronic Hand Brake Checks

Brake Shoes & Cables
Frequently Asked Questions
Why should I get my brakes checked?
Not only are these parts essential to the safety of your driving but if they start to fail, not only can they impair the car's performance but they may lead to you failing your MOT Test.
When should I change my brakes?
You should have your brakes checked regularly! After all, brakes are a crucial safety component of your vehicle and it's essential that they are regularly maintained to ensure they remain in good working order. Look out for these signs and if any of them appear then bring your vehicle to us immediately, so we can access the repair or offer a replacement.
These tell-tale signs are indicators of gradual deterioration within the vehicle's braking system and will need the attention of one of our qualified technicians.
If your brakes feel too hard or too spongy
If the vehicle pulls to one side when braking
If you can hear unusual noises when you press the brake pedal
If your steering wheel vibrates when slowing
How Much Does it Cost to Replace My Brake Disks?
Please give us a call or send a text to 07956 184 689 and we'll get back to you with a competitive quotation.  We do not like high pressure sales techniques, so you will not get that from us.  If you find a better like for like quotation, we would like to know about it so we can match or even better it!
Where are you located?
We are not far from Coventry City Centre at Unit 2 Arches Ind Est, Butts Road, Spon End, Coventry, CV13JQ. This is approximatelt a 10 minute walk from the old Ikea building.
Excellent, prompt, punctual service.  Ash is reassuringly good and makes the effort to fully explain the work carried out.  Really good value for money too. I would highly recommend this garage.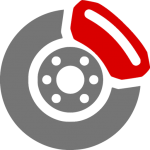 BRAKE REPAIRS
10,000 MILE WARRANTYfor non-commercial vehicles
Established in 1981, we've built a fantastic reputation over the last 38 years. Although we specialise in clutch and brake repairs, we're also available for all types of mechanical work. We're conveniently located in Spon End, near the city centre (a 10 minute walk from Ikea), and welcome customers old and new. You can depend on us to provide free checks for all brake and clutch problems.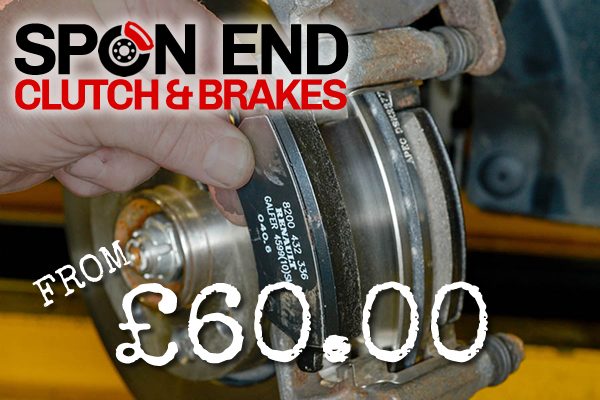 Brake Pads Fitted From £60.00* Example: Ford Fiesta Front Pads Replacement cost is £60.00. If you notice any of the following you should have your brakes checked by an expert to find out whether any components need replacing; If your…